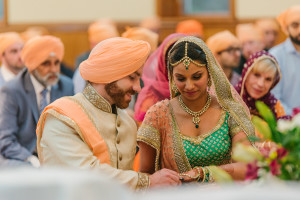 "I reached out to Events by C after meeting Chandani at an expo for Indian weddings. From our first skype chat, I knew she was the right fit for our the coordination of our fusion wedding. Chandani is an absolute pleasure to work with in preparing for your wedding day. She is extremely responsive, professional, and considerate. I found her reminding me of details that I would not have thought of without her. She gives you space to enjoy your day but ensures that she is the first point of contact for any issues that may arise. I would highly recommend her services."
Roop and Mike – Sikh Foundation of Virginia and Anderson House Museum – Fairfax, VA and Washington D.C.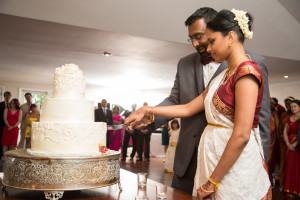 "Chandani of Events By C made the wedding planning process so much easier and was truly a joy to work with. She is professional, organized, hard-working, and always has a smile on her face. Throughout our wedding planning process, she really listened to our ideas and went the extra mile to try to find venues, vendors, etc. that would match our unique needs. She also juggled multiple vendors (some of which were not always easy to work with) very well and switched gears quickly to effectively handle unexpected changes and issues that arose.
Day-of coordination is an area where Chandani really shines. Thanks to her thoughtful and detailed planning, our wedding day and pre-wedding events went off beautifully. With Chandani working behind the scenes, we, our family, and bridal party were able to enjoy the wedding and our guests with minimal stress.
More than anything, Chandani really goes above and beyond to make sure every event is a success. And it really shows – our friends and family raved about her detailed preparation and flawless execution. I would highly recommend Events By C for any event – Chandani and her team will knock your socks off!"
Revathi and Jensen – Antrim 1844 – Taneytown, MD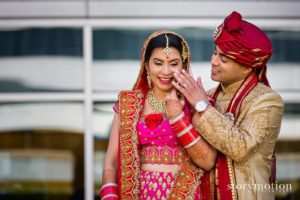 "We hired Chandani as our Day of Planner, and it was the BEST decision we made! She was integral in making our wedding day so successful. As somewhat of a last minute decision, we decided to hire a day of planner. We weren't sure if we needed one because we had already had most of our vendors in place. However, after realizing how much stress Chandani and her team took away from my husband and I and our families, if I could go back in time, I would've hired her as my full wedding planner. Chandani is amazing! Although we only hired her for day of coordination, she made her services available to us six weeks in advance, which was a huge help. She helped us create timelines for our wedding and reception and worked with all the vendors in making sure things ran on time. On the day of the wedding, Chandani and her team worked tirelessly from early morning till 2AM the next day, with a smile on their faces the whole time. Her hard work was even recognized by our close family and friends who complimented Chandani and her team on working so hard and making sure everything went smoothly on our wedding day. From the smallest of tasks to and large problems Chandani and her team were there to help. This saved us and our families from a lot of stress and allowed us all to truly enjoy our day. We strongly recommend Chandani as a wedding planner, her experience, spirit and great team were an integral part of us enjoying our day!"
Salil and Yukti – Renaissance Capital View – Arlington, VA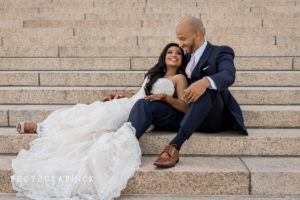 "Working with Events By C (Chandani) was a pleasure from the very start! I honestly can't believe the journey is over, but I'll always value everything they brought along the journey! If you're reading this, and you're about to start the journey to the big day…don't hesitate, reach out to Chandani, and she'll have things coordinated that you weren't even aware of. Both my wife and I were extremely happy with Events By C, they not only greatly reduce the stress along the way, but we were actually able to enjoy the day thanks to their outstanding work. I don't think it's possible to express enough gratitude!"
Joe and Nikita – George Washington Masonic Memorial – Alexandria, VA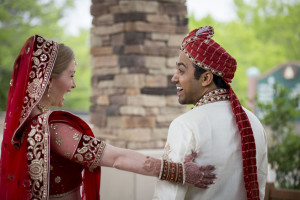 "Chandani was a huge help in making our wedding a great success! We hired her to help us for the "month of" wedding coordination. We had a couple of meetings with her in person as well as many email, phone call and texts as we were getting close to the wedding date. She was a major help with timelines and keeping all of our events, family and friends organized. I cannot say enough good things about Chandani. She definitely will go above and beyond to make sure you are satisfied and everything runs smoothly! We liked her so much that we recommended her to my sister-in-law and they are having her help with their wedding coordination too."
Hailey and Pathik – Grand Geneva Resort – Lake Geneva, WI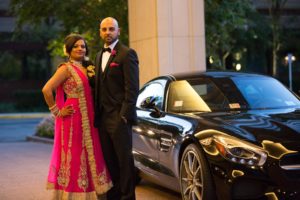 "If you want your event to go flawlessly, book this team. From day one of planning, till well after our wedding, Chandani and her team were readily available, and extremely easy to be open and honest with about anything and everything we wanted. On the day of the wedding, I can't express how amazing they were- so accommodating, patient, and detail oriented. Highly recommended!"
Neha and Amar – Ritz Carlton – Tyson's Corner, VA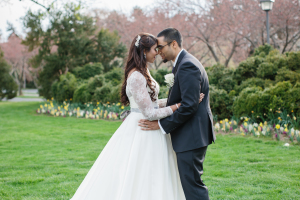 "Chandani was AMAZING. All our friends and family had the best time at our wedding, and this is in large part thanks to Chandani. I gave her very vague, general ideas about what I wanted, and Chandani turned it into something brilliant. I wanted a fusion Sri Lankan – American wedding without much idea about what this means but Chandani was able to help out. Using her experience and contacts, she was able to create for us the perfect Sri Lankan- American wedding.
We hired her about 5 months before our wedding and opted for a partial package as we had a few vendors booked already. We felt like we received the complete package though! She was patient and reliable, and she handled absolutely everything we threw at her. We didn't notice her at all during the ceremony and reception because she was running around making sure everything went off without a hitch.
We had no complaints about her leading up to the wedding and on the wedding day, and highly recommend her to anyone looking for a wedding planner."
Sarmila and Khalid – Glenview Mansion – Rockville, MD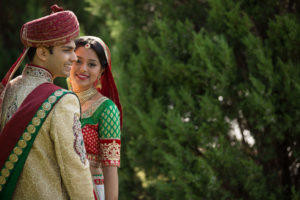 "Having Events by C help us plan our wedding was the best thing we could have done. Being in a long distance relationship prior to the wedding, Chandani made it a lot easier for us to get everything organized and done in a timely manner. The timelines made for the day of the wedding for each vendor were extremely helpful and Chandani was so great at keeping everyone calm and collected. Thanks Chandani! :)"
Vaishali and Jay – Stonegate Banquet Centre – Hoffman Estates, IL